[Editor's Note: Be Here or Be Square. Check out FDL's May Day 2012 coverage page.  Brian Sonenstein has more on May Day 2012 at Firedoglake.]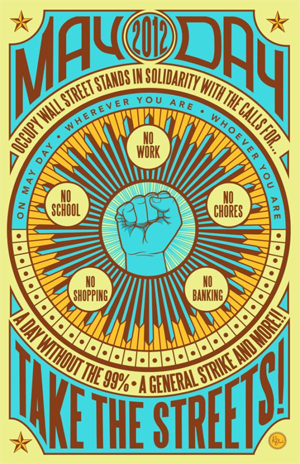 May Day, a holiday created in part to commemorate the Haymarket Massacre in Chicago, Illinois, has become a global celebration in almost every country except, ironically, the United States. That Ends Tomorrow.
A General Strike has been called and not just in America but throughout the world.
Occupy Wall Street demonstrators, whose anti-greed message spread worldwide during an eight-week encampment in Lower Manhattan last year, plan marches across the globe tomorrow calling attention to what they say are abuses of power and wealth. In New York, Occupy Wall Street will join scores of labor organizations observing May 1, traditionally recognized as International Workers' Day. They plan marches from Union Square to Lower Manhattan and a "pop-up occupation" of Bryant Park on Sixth Avenue, across the street from Bank of America's Corp.'s 55-story tower. "We call upon people to refrain from shopping, walk out of class, take the day off of work and other creative forms of resistance disrupting the status quo," organizers said in an April 26 e-mail.
May Day is an international workers' day celebrated in more than eighty countries to honor labor and left-wing movements. Originally organized to commemorate the Haymarket Massacre, the day has broadened to include workers' rights, immigrant rights, and anti-war efforts. The occupy movement is calling on the ninety-nine percent to no longer stand idly by and remain complacent. May Day is an opportunity to flex our collective power to show the plutocracy that their time is over, that profits over people will no longer be the modus operandi… So will you call out of work for the sons and daughters fighting an illegitimate war, endangering themselves to enrich CEOs? Will you buy nothing in support of the ten million foreclosed homes expected in 2012? Will you march out of classes for the millions of uninsured children in this country? Will you general strike with me?
BEGINNING MAY 1, 2012 NO WORK – NO SCHOOL – NO SHOPPING – NO BANKING – NO TRADING THE PEOPLE OF THE PLANET WILL TAKE TO THE STREETS #OLA & #OLB are calling on all people of the world to start planning NOW for a Global Strike. The goal is to shut down commerce worldwide and show the 1% we will not be taken for granted, we will not be silenced, WE WILL NOT MOVE until our grievances are redressed.
May Day is an international day of celebration to honor the labor movement. This year the Occupy movement has made a call for mass action—the May First General Strike (#M1GS): a day without the 99%. Over 115 US cities have organized in solidarity with this call to action… If you are inspired by the day of action but don't live near any organized events you can still take part. If you can't strike, take the first step. We can work to shift the balance of power back into the hands of the people little by little in our everyday lives. Here are some examples to get you thinking: Move Your Money – Share a meal with others and and talk about subsidized agriculture and factory farming or make a meal with friends to serve to local homeless people a la Food Not Bombs – Start a Personal/Community Garden – Have a Free Store/Fair: Get together and share your unwanted items with others – Screen a Movie: Invite your friends or neighbors over to watch a documentary – Have a Skill Share: Give a free class to share your skills and knowledge. This could be as simple as giving a knitting demonstration or as complex as teaching someone a new language. We have the power in our hands to change the course of our day to day realities if we are willing to participate and reach out to our neighbors and communities. In the words of Steven Biko, "the greatest weapon in the hands of the oppressor is the mind of the oppressed." Big business should not be in control of us, we are the many and they are the few.
While American corporate media has focused on yet another stale election between Wall Street-financed candidates, Occupy has been organizing something extraordinary: the first truly nationwide General Strike in U.S. history. Building on the international celebration of May Day, past General Strikes in U.S. cities like Seattle and Oakland, the recent May 1st Day Without An Immigrant demonstrations, the national general strikes in Spain this year, and the on-going student strike in Quebec, the Occupy Movement has called for A Day Without the 99% on May 1st, 2012. This in and of itself is a tremendous victory. For the first time, workers, students, immigrants, and the unemployed from over 125 U.S. cities will stand together for economic justice.
The OWS site linked to above has a directory for your local Occupy and if you can not find one look at the suggestions from Occupy Together.
What Are You Doing Tomorrow?