12:10 pm in Uncategorized by RH Reality Check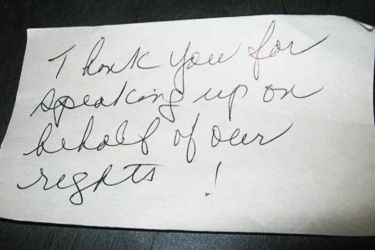 Written by Annamarya Scaccia for RH Reality Check. This diary is cross-posted; commenters wishing to engage directly with the author should do so at the original post.
When Rita Poley created the "Stop the Abington Hospital Merger" Facebook page, she had no idea what would happen next.
For the 69-year-old Elkins Park, Pa. resident, it was a way to connect with other Montgomery County community members outraged by the abruptly announced partnership between the secular Abington Health (AH) and the Catholic-affiliated Holy Redeemer (HR), both located in the metro Philadelphia area. The Facebook page, created July 3—a week after the merger was revealed—was a means to initiate debate about "the horrible situation that was now present in our community."
That horrible situation? The creation of a new regional health system formed between Holy Redeemer and Abington Health (which encompasses its flagship hospital, Abington Memorial Health (AMH) and Lansdale Hospital in Hatfield Township, as well as two area outpatient facilities), would mean total elimination from the hospital system of abortion care, even as Abington Health still claimed to remain a secular institution. Abington Health doctors and community members claim they were not consulted about this decision—or the partnership—before it was announced.
"This is just very, very, very close to my heart, this issue," says Poley of her passion to fight against the partnership and its implications for women's reproductive health care. Poley, director and curator of Elkins Park's Temple Judea Museum of Reform Congregation Keneseth Israel for the last 13 years, came of age during the fifties when "these battles were being fought. I had friends from college who had to endure back alley abortions."
But what began as a suggestion from her 44-year-old daughter Nomi Saunders turned into the straw that broke the camel's back.
And all in a matter of over two weeks.
"In the 15 years we've been doing this, this is the fastest merger defeat we've ever seen," says Sheila Reynerston, advocacy coordinator for the New York-based MergerWatch Project. "It was 20 days. That's incredible."
A Swift Change

On July 18, after an emergency hospital board meeting, both Abington Health and Holy Redeemer released a joint statement announcing that the merger was dead.
Together we had a bold vision that we believe would have served our community well. While we are disappointed, we believe this decision is in the best interest of both organizations.
Why the merger fell apart in the end is at this point only a matter of speculation, but Poley and others involved in the campaign against the partnership believe it had a lot—if not all—to do with the grassroots efforts in the Montgomery County community. After all, the Facebook page had 1,470 likes as of July 20, 10,000 community members were sporting "Stop the Abington Hospital Merger" pins, and a Change.org petition against the merger received more than 6,100 signatures. (Linda Millevoi, spokesperson for Abington Memorial Hospital responded to an RH Reality Check inquiry about the end of the merger delining further comment, and did not respond to requests for further clarification as of press time).
"I had no idea what was going to happen but I knew if anything was going to happen, we had to have a way to come together," says Poley. "Facebook really is the 21st century town square."
Poley, who heard the news while conducting a tour at the museum, also cites her talk with Abington Memorial Hospital's Executive Vice President and Chief Operating Officer, Meg McGoldrick, on July 13. According to Poley, when McGoldrick called her to inquire about a sit-down meeting to discuss an accommodation, in which AMH would establish an off-site facility for abortion services, Poley refused. Instead, she informed McGoldrick that everyone involved in the campaign was developing strategies that would help end the merger. "I told her…it was going to get much worse, and I think she heard me," she asserts.
"The movement created by the community against this merger was unprecedented," says Reynerston, who attended a meeting with campaigners, along with representatives from Catholics for Choice and American Civil Liberties Union (ACLU) the night of July 17. "There was so much good use of social media and in such a short amount of time. It was quite clear that the community was very unhappy."
"It was an impressive show of dissent against an ill-planned proposal," she adds.
Another factor that can be attributed to the suspension was the overwhelming number of letters of discontent—most of which Poley posted to the Facebook page—that swamped the inboxes of the Abington Health administration. One such letter, sent July 3 by eight local Rabbis to Abington Health President and Chief Executive Officer Laurence M. Merlis wrote of the merger:
While we respect Catholic teachings that regard a fetus as a potential life, and understand that a Catholic hospital would refuse to provide abortion services, we are deeply concerned that this decision imposes a Catholic religious worldview on the entire community…In making the decision to no longer provide abortions at AMH, you are in effect saying that one religious tradition's teachings should take precedence over all others. Should AMH commit to this path and refuse to perform abortion services, it would seriously undermine its status as a community hospital in any meaningful sense of the term.
"As a Rabbi, I don't look at this as a political issue, I look at this as a moral issue," says Rabbi Lawrence R. Sernovitz of Old York Road Temple-Beth Am in Abington, one of the letter's signers. "The moral issue is [that] women should have the right to have the services that they need in their own community… To take away the rights of women for a financial decision is not appropriate if you are serving the greater community."
The Doctors Didn't Buy It
Read the rest of this entry →