11:39 am in Uncategorized by RH Reality Check
Written by Jenny Dodson for RH Reality Check. This diary is cross-posted; commenters wishing to engage directly with the author should do so at the original post.
The vicious attacks on women's health to which we've grown so accustomed on the national and state stages are trickling down to the local level, as municipal and county governments get in on the action. Thankfully, time and again, local citizens have mounted fast and furious responses, resulting in the type of swift and satisfying victories that sometimes feel unimaginable on the national stage.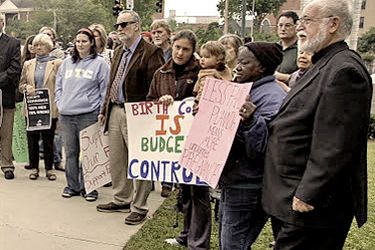 Local officials around the country have been using the "no taxpayer-funding for abortion" mantra to quietly turn away money for family planning programs that provide vital services for their neediest constituents. These attacks tend to follow a pattern: a program that has been funded without debate for years is suddenly pegged by a politician as "controversial." Fellow politicians fall in line and vote to defund the program before residents and public health officials have time to react.
But in a few instances, community members are stepping in to stop them once word gets out.
Last year, in Ravalli County, Montana, County Commissioners challenged the approval of $39,000 in Title X funding to the local family planning clinic. The clinic provides services such as pregnancy & STD tests, contraceptives, and nutrition education to over 450 clients, the vast majority of whom are uninsured and live below the poverty line, and a third of whom are teens. The clinic had never before faced a problem receiving funding.
At a July meeting, County Commissioner Matt Kanenwisher raised three objections to the clinic's funding based on his personal beliefs: its mission of preventing unplanned pregnancy implied that pregnancy was a "disease state," its provision of emergency contraception was outside the proper role of government, and its promise of confidentiality for services offered to adolescents violated the "sacred relationship" between parent and child. For good measure, he added that it was "easy to debate" whether or not EC causes abortion.