11:41 am in Uncategorized by RH Reality Check
Written by Vyckie Garrison for RH Reality Check. This diary is cross-posted; commenters wishing to engage directly with the author should do so at the original post.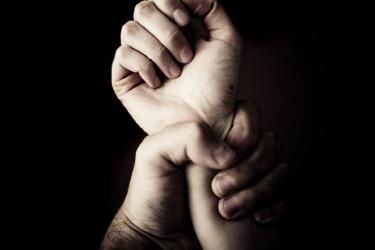 After stumbling across yet another piece of alarmingly dangerous advice for abused women of faith titled, Surviving Emotional Abuse Six Steps, by Christian author, Darcy Ingraham, I am wishing I had more middle fingers with which to express my extreme irritation. Ack!
I will to try to calm down long enough to use my words rather than profane gestures to talk about spiritual abuse.
To begin with the author assumes that only those husbands who abandon their faith become angry, bitter, and abusive — and she offers no help for women whose abusive husbands are fully committed Christians acting in accordance with patriarchal teachings derived from the bible; she quotes random bible verses out of context to convince abused women that they are safe from actual violent abuse so long as they remain close to God; she appears to believe a woman's display of piety (praying out loud for her abuser and telling him that she is giving him over to the Lord, for example) is the way to truly intimidate her abusive husband and get him to back off; she advises victims not to "make the abuse worse" by reacting to their abusers' anger (followed by the whiplash-inducing about-face when she admonishes victims to never allow anyone to convince you that the abuse is your fault); and to top it all off, the author encourages abuse victims to take charge of their lives by finding a hobby.
When we write about "surviving" abuse at No Longer Quivering, we mean living through it, getting help, getting away, processing, healing, and moving on with our lives.
To the "Six Steps" writer, "Surviving Emotional Abuse" means living with the abuser and "finding contentment" in a situation which, in fact, should not be tolerated.