9:39 am in Uncategorized by RH Reality Check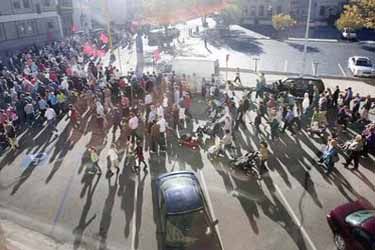 Written by Robin Marty for RH Reality Check. This diary is cross-posted; commenters wishing to engage directly with the author should do so at the original post.
On May 1st, a group of about 50 people gathered in Fargo, North Dakota. Their intent? To try and "shut down" the only clinic in the state that provides pregnancy terminations, in the hopes to make it an "abortion-free" state.
Leading the charge was Operation Save America, under the leadership of Rev. Flip Benham. Best known for his belief in "justifiable homicide" and his "Wanted" posters styled to make doctors who provide safe abortion care and those who employ them look like Old West villains (and with the "Dead or Alive" implied), Benham has been arrested multiple times for stalking.
But although they are leading the States of Refuge movement, they are by no means the only group involved. And for some of those groups, their calls to action are just as intimidating.
The public face in the media when it came to the Fargo event was a Wisconsin group called "Missionaries to the Preborn." Formed in Milwauke in the 1990′s, the group's leader, Pastor Matt Trewhella of Mercy Seat Church, is an outspoken advocate against abortion, and for guns. Trewhella already has his own personal FBI file due to his incendiary rhetoric, his signature on a statement that said killing doctors who perform abortions is "justifiable homicide," and his alleged "programming" of an anti-abortion extremist to incite him to violence against practitioners.