10:12 am in Uncategorized by WeatherDem
According to data released by NASA and NOAA this week, 2012 was the 9th or 10th warmest year (respectively) globally on record.  NASA's analysis produced the 9th warmest year in its dataset; NOAA recorded the 10th warmest year in its dataset.  The two agencies have slightly different analysis techniques, which in this case resulted in not only different temperature anomaly values but somewhat different rankings as well.
The details:
2012's global average temperature was +0.56°C (1°F) warmer than the 1951-1980 base period average (1951-1980), according to NASA, as the following graphic shows.  The warmest regions on Earth (by anomaly) were the Arctic and central North America.  The fall months have a +0.68°C temperature anomaly, which was the highest three-month anomaly in 2012 due to the absence of La Niña.  In contrast, Dec-Jan-Feb produced the lowest temperature anomaly of the year because of the preceding La Niña, which was moderate in strength.  And the latest 12-month period (Nov 2011 – Oct 2012) had a +0.53°C temperature anomaly.  This anomaly is likely to grow larger in the first part of 2013 as the early months of 2012 (influenced by La Niña) slide off.  The time series graph in the lower-right quadrant shows NASA's 12-month running mean temperature index.  The recent downturn (2010 to 2012) shows the effect of the latest La Niña event (see below for more) that ended in early 2012.  During the summer of 2012, ENSO conditions returned to a neutral state.  Therefore, the temperature trace (12-mo running mean) should track upward again as we proceed through 2013.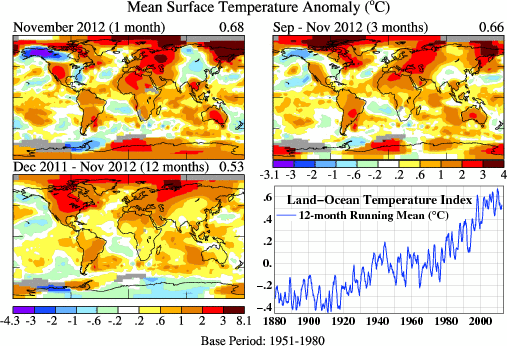 Figure 1. Global mean surface temperature anomaly maps and 12-month running mean time series through December 2012 from NASA.
According to NOAA, 2012's global average temperatures were 0.57°C (1.03°F) above the 20th century mean of 13.9°C (57.0°F).  NOAA's global temperature anomaly map for 2012 (duplicated below) reinforces the message: high latitudes continue to warm at a faster rate than the mid- or low-latitudes.
Figure 2. Global temperature anomaly map for 2012 from NOAA.