Occupy Houston Update.
I delivered the most recent box of Occupy Supply goodies on Christmas Day but far more timely was the hot meal. It had been raining hard for much of the previous 48 hours and our Occupiers were wet and cold. Someone had brought in an elevated fire pit and some firewood so at least temporarily they had heat to help them dry out.

Occupy Houston has limited cooking facilities. There are a few power outlets in the park they can tap into but the fire marshal has determined that extension cords are a fire hazard. This limits their ability to prepare hot food.
When I received the Occupy Supply gift card the weather report suggested that a hot, ready to eat meal would be appropriated. My daughter and I visited Kroger on Christmas Eve and came away with $105 worth of groceries. Fortunately, temperatures in the forties meant I did not have to squeeze everything into my refrigerator. Best deals of the day were sweet potatoes at $0.68 per pound, 15 pound bags of russet potatoes for $3.97 and a 16 pound turkey for ten bucks. We also bought a variety of fresh fruits and vegetables and a greatly reduced spiral ham.
Christmas Morning, I put the turkey in the oven about 8 AM, and as the morning progressed added other dishes with the intent that all would be ready about 1:00 PM.  Shortly after 1, all was ready.  The turkey, foil pans of candied sweet potatoes, mashed potatoes, and macaroni and cheese plus a vegetable medley were packed into some Styrofoam, Omaha Steak shipping containers that I had saved for just such an occasion and we were off.  The Occupiers generally frown on any use of Styrofoam but we were forgiven since we were "recycling."
When we arrived, the mood in camp was festive.  There had been some other food deliveries and most importantly, they had heat.  One of the first things that occurred when the food was laid out was that plates were prepared and delivered to the ever-present police watchers.  We visited for about an hour before it was time to go home and conclude our own Christmas festivities.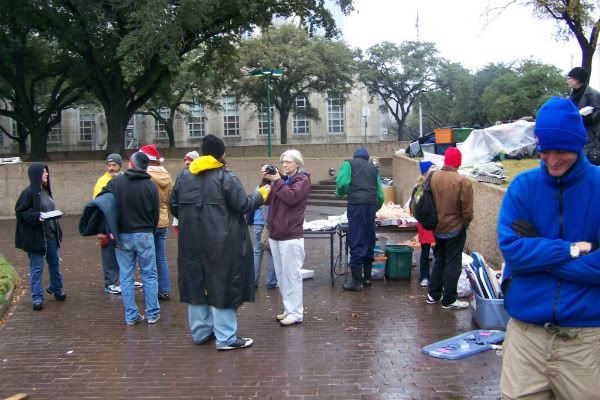 Other Developments
Occupy Houston has gained the use of some property in nearby historic "Freedmen's Town."  There is a small dwelling and an adjacent vacant lot there.  They have obtained the appropriate permits to erect tents on the lot.  The property is within walking distance of Tranquility Park.  They do not plan to abandon their park occupation. This development allows them to sleep in the park in shifts but provides shelter from the worst winter weather, particularly extended periods of rain.
I mentioned above that the provisions we bought included a ham.  When we went to the park on Sunday, we forgot to take it.  I delivered it on Thursday after work, along with some bread for sandwiches and some more fresh fruit.  They had difficulty serving the ham because they were running out of sanitary gloves and eating implements.  I then learned that some occupiers had gotten ill and the suspected cause was sanitation issues.   Added to the list of needed items was dish soap, bleach for disinfecting and food preparation gloves.  An ancillary benefit of the dwelling reported above is the use of that kitchen for food preparation.
On Tuesday, OH received a visit from the mayor.  The visit was cordial and no demands or ultimatums were made.  The biggest issue was the need for some concerted housekeeping.  The park was messier than usual in the aftermath of the extended rainstorm.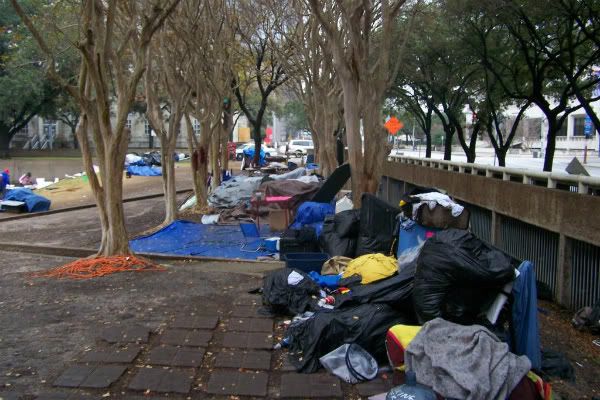 Some of the occupiers had been hosting a call-in program, Occupy the Airwaves,  on KPFT, the local Pacifica affiliate.  This was always a limited time engagement, but they were advised on Thursday that they would have to relinquish their time slot.